Reward Strategy Conference 2018
Visit the Epayslipsecure team at the Reward Strategy Conference, the UK's biggest independent payroll and reward conference, now in its 14th year! Our team will be on hand to answer any questions you might have regarding our payroll software and solutions. The conference will also allow visitors to gain updates across the latest crucial topics that affect the payroll and reward profession.
A secure online web portal with seamless integration
Epayslipsecure is a secure online web portal that offers employers multi-channel options for the generation and delivery of payslip and employment-related information to their staff. As a bespoke web portal that is designed to integrate seamlessly into employers' existing systems, Epayslipsecure works with all established payroll software and there is no need to install any new software.
How it works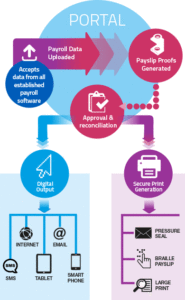 Start Your Free Demo
To arrange your FREE online demo and to find out how you can simplify and improve payslip delivery, call us on 0333 121 3100 or complete and submit the request form on this page and we'll contact to you to arrange a time to suit you.